History of malleable cast iron fittings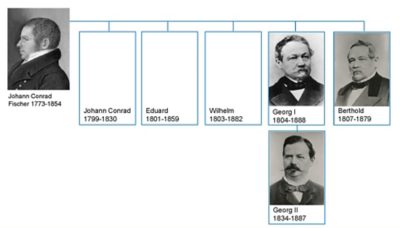 History of malleable cast iron fittings and the pioneer Georg Fischer II
Timeline of the Plant at Traisen, Austria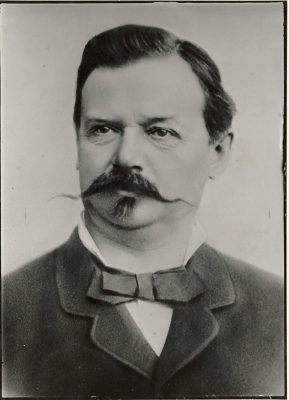 1934 Georg Fischer II was born in Hainfeld, Austria as son of Georg Fischer I and Seraphine Reiter. 

Georg Fischer II attends school in Schaffhausen and during his time with his grandfather, Johann Conrad Fischer, he learns the basics of the manufacture of steel castings and cast steel, forging and processing to filings.

he attends the Polytechnic Institute in Vienna and spends some years as an apprentice with his father Georg Fischer I in Hainfeld, Austria

The today's "Technical University, Vienna" was founded 1815 as k. k. polytechnisches Institut by Kaiser Franz I. of Austria, to educate engineers for military, mining and civil engineering.

1854 the grandfather Johann Conrad Fischer dies and Georg Fischer I inherits the facilities in Schaffhausen. 

1856 at the age of 22 years Georg Fischer II takes over the management of the plant in Schaffhausen after the still stand of production since 1854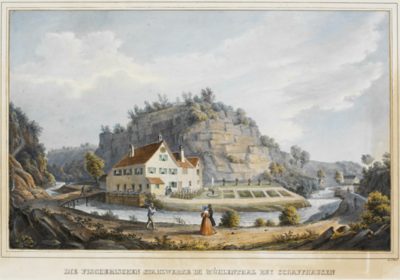 1860 Georg Fischer II decides to expand the manufacturing program by the production of soft castings (= malleable cast iron) according to the methods of his grandfather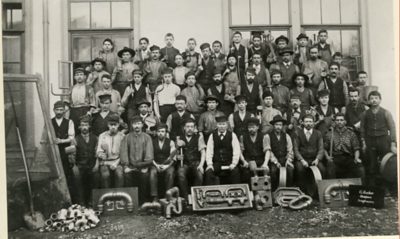 1864 Georg Fischer II buys the premises in Mühlental, Schaffhausen from his father Georg Fischer I and transforms it from a workshop-kind to an industrial plant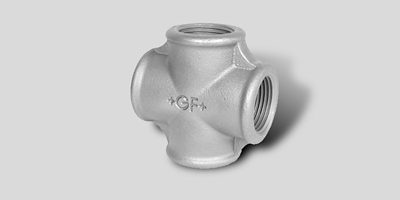 He begins with the production of pipe fittings in malleable cast iron in Schaffhausen.

Thus, Georg Fischer II is the first producer of malleable cast iron piping connections on the European continent.
The cast fittings represent a cost-effective and technically equivalent alternative to the previously used forged version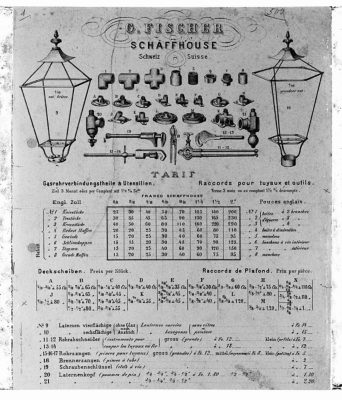 The first brochure appears with 91 models of pipe fittings, gas lighting accessories from ¼ -2 inches and tooling

1826 Timeline of the Plant at Traisen, Austria
Johann Conrad Fischer buys in Hainfeld abandoned industrial facilities and builds a factory for cast steel products and filings

1828 J.C. Fischer gets the Austrian privilege for soft casting (=malleable cast iron ) and grants a license for 15 years to Wilhelm de Brévillier.
JCF's son Berthold constructs the foundry for Brévillier in Neunkirchen, Austria and serves as production manager for some years

1833 Georg Fischer I buys the plant in Hainfeld from his father, and acquires two more hammer mills in Austria - one in Traisen, one in Ramsau.
From 1843 Berthold Fischer converts the former hammer mill Traisen of his brother Georg Fischer I into a malleable cast iron foundry.

1844 the Traisen plant is renamed to Berthold Fischer – Eisenguss und Stahlwarenfabrik (Traisen).
A variety of malleable iron products are manufactured in the following years, however no pipe fittings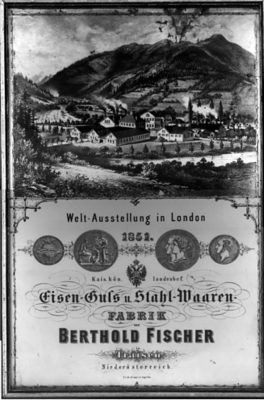 1851 Berthold Fischer is awarded medals at the world exhibitions London for his malleable cast iron products.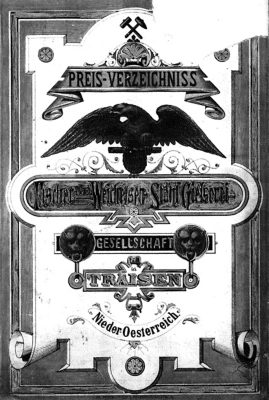 1851 Berthold Fischer is awarded medals at the world exhibitions London for his malleable cast iron products. 

1894 Sale of the Traisen plant to Austrian industrialists Gebrüder von Lenz. 

1898 Under the new owner, production of malleable cast iron fitting begings. 

1920 to 1990 Changing Ownership:  
1920 Skoda-Wetzler, 1939 Alpine Montangesellschaft, 1973 Voest Alpine AG

1990 The birth of Fittings Traisen GmbH with a new owner structure:
51% Georg Fischer and 49% Voest Alpine Stahl Linz

1995 Georg Fischer Fittings GmbH; the historical circle to the foundation in 1833 has been closed

2004 Start of PRIMOFIT production in Traisen
The Plant of Georg Fischer Fittings GmbH in Traisen today