The Hycleen Automation System conducts your potable water installation safely and conveniently from one central control unit. With the automated circulation control system, GF Piping Systems ensure flowing harmony in your installation. It allows for all system data to be logged, evaluated and displayed on a 10-inch touch screen. All system data can be conveniently monitored remotely; status information and unusual occurrences are reported via push messages.
Webinars on-demand
Digitalization of drinking water monitoring (Workshop at the Connection Convention)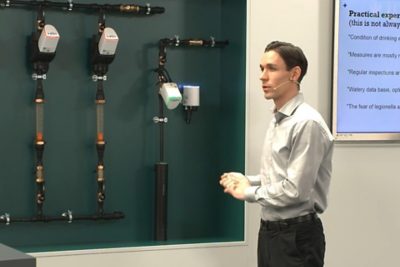 Product Manager Simon Obrist explains the challenges of drinking water installation in large buildings and demonstrates the setup of the Hycleen Automation System on an installation wall. The system and the cloud solution Hycleen Connect create various benefits, which he discusses in detail during the workshop.
Drinking water installation - smart and digital (Workshop at Age of Water)
Arnaud Andreolli (Product Management) and Jonas Ganzenmüller (Technical Sales) explain how the Hycleen Automation System and the Hycleen Connect cloud solution work. During the workshop, they also talk to a client who has successfully installed the Hycleen Automation System in his building and now shares his experience from the customer's perspective.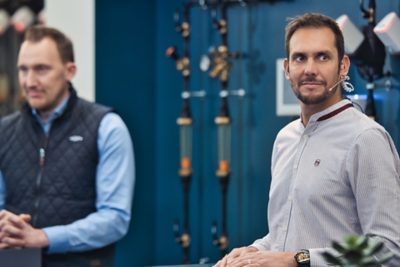 Uniformly high temperatures and regular water exchange. Prevention of biofilm formation and Legionella infestation thanks to hydraulic balancing and automatic flushing.
Easier calculation of hydraulic balancing thanks to sound data basis and thus constant water pressure, without long waiting time for cold or hot water.
Hot water temperature reduction thanks to optimal hydraulic balancing.
Simple to install with only one cable for electricity and data. Fast, software-assisted commissioning. Master automatically detects type and ID of all connected controllers.
Water now comes from the cloud
Discover the new Hycleen Connect.
Remote monitoring
Alerting
Remote access
Data management