We offer a true partnership with unified vision towards active water conservation
The water treatment market is faced with several critical issues with increasing urbanization and global warming, resulting in one of the biggest concerns, namely water scarcity. Industrial companies are producing more polluted wastewater, creating challenges for water technology in many different industries. Growing stringent safety and sustainability regulations on chemical handling ensure increased environmental and human health standards thanks to greater control in chemical reuse, reclaim, and recycling. Process Automation has an integral role in the growing need for water conservation. At GF Piping Systems, we offer deep application knowledge of the entire water and chemical cycle. We futureproof your entire piping system with intelligent integration, gain insight and efficiencies effortlessly across the entire install.


How our Process Automation solutions ensure...
Industry applications require different shades of water quality. No matter what your process specifies, the water quality must remain consistently reliable. We have the ideal solution for minimal manual intervention throughout the lifecycle with little to no maintenance. Smart water systems offer the opportunity to improve productivity and efficiency while enhancing customer service.
production efficiency and reduced operating costs
GF automation solutions simplify process monitoring and control, lower rework costs, minimize inspection costs, and reduce system failures. Our advanced piping solutions are made of lightweight plastic materials, which contributes to easier and faster installation times, so maintenance requires less effort than metal. Thanks to non-corrosive materials, the lifetime can often be exceeded by multiples compared to conventional solutions.
GF Piping Systems' instrumentation products help measure and analyze process parameters such as pressure, temperature, level, and humidity. Our process automation solutions help monitor and control processes to lower rework costs, minimize inspection costs, and reduce system failures. Optimize your time onsite: let your plant work on the safest autopilot ever with our optimized pairing of instrumentation and automation.
If pneumatic or electric actuation is needed, we have got you covered. With lower operating torque on our plastic valves, we help to preserve energy and enable smaller actuator options with no compromise on performance. Our system approach guarantees a seamless integration from the piping to the control system.
lower footprint with our sustainable processes
Reduction of packaging, including paperwork, is at the center of our thinking. Corrosion-free plastic systems not only help to reduce leakages but also ensure a long lifetime can be expected. We provide customer support at every step to ensure the best use and installation. Depending on the jointing technology of choice, state-of-the-art quality control is available, from digital weld bead inspection (WBI) to non-destructive testing (NDT) combined with digital documentation capabilities. Save on pump capacity by optimized sizing, and less pressure loss across the complete system.
We offer the full package with our products and solutions, providing a top-quality installation, a highly skilled team of experts standing by our customers' side every step of the way worldwide, and digitalized services ensuring a project is at the forefront of the market.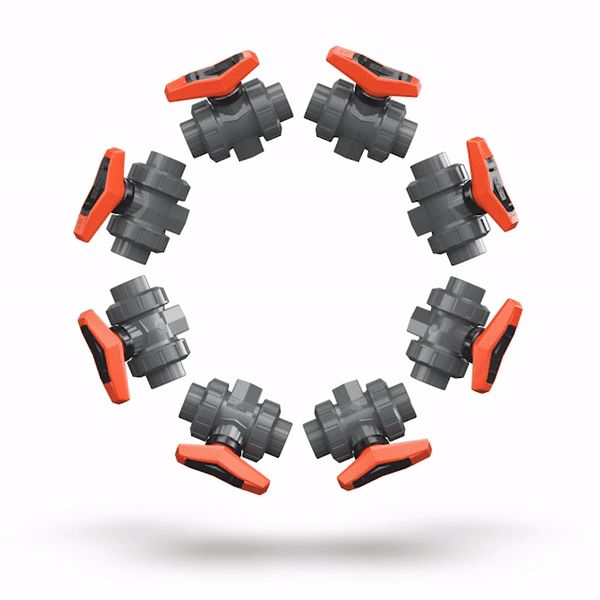 The right automated valve for your application
We offer one of the most comprehensive valve product ranges, enabling you to find the right match for your application. Our automated valves are available in a wide selection of dimensions, materials, chemical resistances, standards, actuation, operation principles,and pipe connections and they are designed for long service life. Combining the right valve selection and our high product quality leads to a favorable total cost of ownership.
Reliable actuation with configuration flexibility
With our modular set-up, valves and actuators can be combined flexibly, and additional functionalities, like positioners or smart monitoring devices, can be added optionally. Naturally, we offer a whole range of all-plastic designs which are capable of withstanding harsh environments. A wide range of pressure regulating valves and accessories complete our actuation portfolio.
Accurate measurement is the basis for reliable process control
Our measurement offering will cover your needs: flow, pH, conductivity, level, temperature and various water quality parameters. Most sensors are available in plastic for the corresponding piping systems and are therefore highly resistant to chemicals. Our plug-and-play measurement products are self-explanatory, easy to maintain, and offered with suitable installation fittings.
Precise control throughout your automation loop
The clever design makes life easy. All our measurement parameters can be connected with the same transmitter, a true multi-parameter controller. Due to their modular design, additional functionalities such as batch control or communication technologies can be added anytime. Our control products are simple to operate, have intuitive menu structures, and can be upgraded modularly.
Process Automation has an integral role within the growing need for water conservation. The process automation control loop for plastic piping systems simplifies the design, planning, and installation of multiple industrial water treatment applications.
We make Process Automation easy
Connected water – Water Microgrids
Join Antoine Walter, Jacob Bossaer (BOSAQ), and Gilad Yogev (Fluence) as they discuss decentralized water treatment, micro-utilities, and the vision for water infrastructure in the 21st century.
Sustainable Process Automation solutions
Find out how completing the process automation control loop for plastic piping systems can simplify the design, planning, and installation of multiple water treatment applications from those in the know.  
Water 4.0 - The future of water
The great minds from GF Piping Systems join forces to discuss the future of water. Water 4.0 will focus on how digitalization and sustainability go hand in hand to tackle the world of water's biggest challenges.
We make process Automation easy
By being a full solution provider we enable our customers to design, select, install and own process automation solutions. We make Process Automation easy. With Process Automation, GF Piping Systems can supply every customer not just with the highest quality parts but with an interoperable all-in-one solution.

×
Sign up for our newsletter
Don't want to miss what's new for process automation? With our quarterly newsletter we keep you up to date! Please enter your contact information below so we can add you to our mailing list.