What makes JRG Sanipex MT unique? The multilayer pipes and fittings are produced in the two-layer injection moulding process combined with the ingenious flared clamp connection technology. Combined with many other benefits this makes the holistic system ideal for distribution, riser, and connection lines in single-family homes and large-scale projects for drinking water, heating, cooling, or compressed air.
Genius does not age
JRG Sanipex MT - the holistic system for hygienically perfect pipe connections. For 20 years, the system continues to provide:
Full pipe cross-section without dead spaces and only with minimal pressure losses
Detachable and reusable connection from d12 - d63
Corrosion and limescale resistant plastic technology
Noise-less flow owing to the full pipe cross-section
NEW: Fitting insulation shells
NEW: additional PE-RT pipes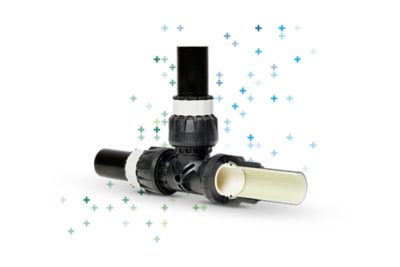 JRG Sanipex MT World Cup
As part of the 20th anniversary, the world's best installers compete on our JRG Sanipex MT installation wall. The World Cup is coming to you as a roadshow. Try to set the best installation time and become World Champion
Register Now!
This year, the World Cup is coming to you as a roadshow. Use the form below to register and show how fast you are! After filling in the form, you will be asked to verify your mail address. Afterwards, someone will get in touch with you. 
More information and the current ranking list are available in our virtual truck in the event campus!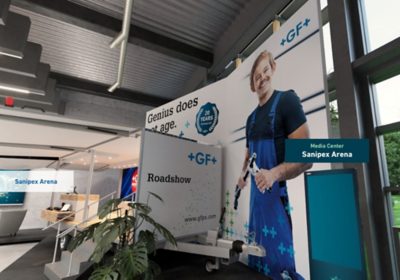 Follow our JRG Sanipex MT World Cup
All information around our Sanipex MT World Cup (current ranking, videos, picture gallery) are available in the virtual truck on our event campus
4 reasons why JRG Sanipex MT is exactly the right system for you
The Fraunhofer Institute confirms that the system has no dead spaces, which means that it does not provide a breeding ground for legionella or bacteria.
Resistance to corrosion and limescale
You can use the robust plastic system anywhere in building technology (drinking water, heating, cooling, compressed air), as it is particularly resistant to corrosion and limescale.
Well-proven and constantly improved.
You do not have to experiment because, with JRG Sanipex MT, you rely on a system that has been tried and tested for 20 years, continuously optimized, and further developed.
You can assemble the system quickly and easily, as you only need simple tools to make connections in all dimensions. The flared clamp connection technology is also easy to detach and reuse.
Good for you - certified for the environment
Did you know? JRG Sanipex MT is made of environmentally friendly and recyclable materials, which is why the pipe system is certified according to BREEAM, LEED, and DGNB.