What makes JRG Sanipex MT unique? The multilayer pipes and fittings are produced in the two-layer injection moulding process combined with the ingenious flared clamp connection technology. Combined with many other benefits this makes the holistic system ideal for distribution, riser, and connection lines in single-family homes and large-scale projects for drinking water, heating, cooling, or compressed air.
Genius does not age
JRG Sanipex MT - the holistic system for hygienically perfect pipe connections. For 20 years, the system continues to provide:
Full pipe cross-section without dead spaces and only with minimal pressure losses
Detachable and reusable connection from d12 - d63
Corrosion and limescale resistant plastic technology
Noise-less flow owing to the full pipe cross-section
NEW: Fitting insulation shells
NEW: additional PE-RT pipes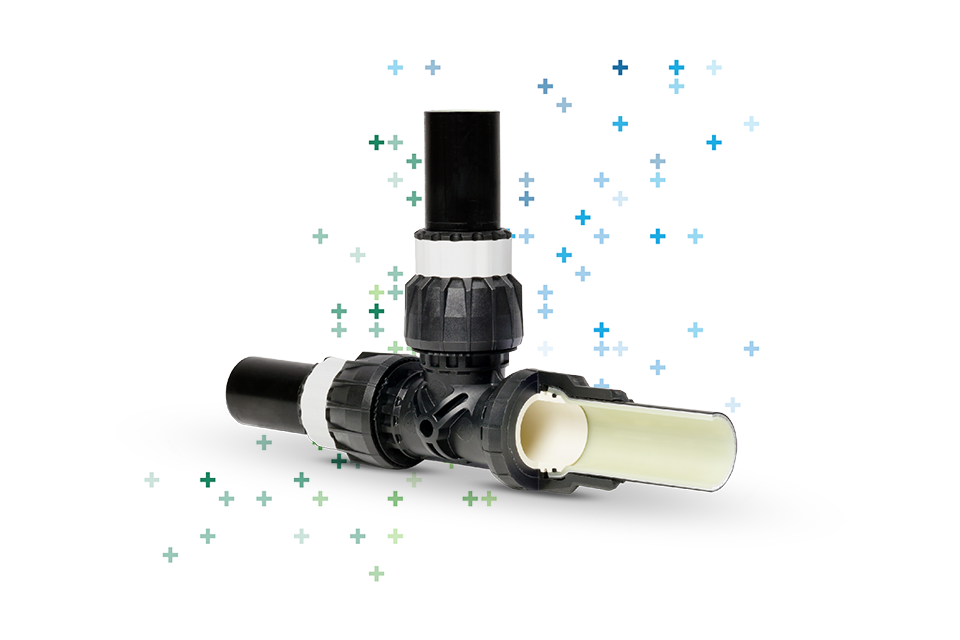 JRG Sanipex MT World Cup
As part of the 20th anniversary, the world's best installers compete on our JRG Sanipex MT installation wall. The World Cup is coming to you as a roadshow. Try to set the best installation time and become World Champion
Register Now!
This year, the World Cup is coming to you as a roadshow. Use the form below to register and show how fast you are! After filling in the form, you will be asked to verify your mail address. Afterwards, someone will get in touch with you. 
More information and the current ranking list are available in our virtual truck in the event campus!
Follow our JRG Sanipex MT World Cup
All information around our Sanipex MT World Cup (current ranking, videos, picture gallery) are available in the virtual truck on our event campus
4 reasons why JRG Sanipex MT is exactly the right system for you
The Fraunhofer Institute confirms that the system has no dead spaces, which means that it does not provide a breeding ground for legionella or bacteria.
Resistance to corrosion and limescale
You can use the robust plastic system anywhere in building technology (drinking water, heating, cooling, compressed air), as it is particularly resistant to corrosion and limescale.
Well-proven and constantly improved.
You do not have to experiment because, with JRG Sanipex MT, you rely on a system that has been tried and tested for 20 years, continuously optimized, and further developed.
You can assemble the system quickly and easily, as you only need simple tools to make connections in all dimensions. The flared clamp connection technology is also easy to detach and reuse.
Good for you - certified for the environment
Did you know? JRG Sanipex MT is made of environmentally friendly and recyclable materials, which is why the pipe system is certified according to BREEAM, LEED, and DGNB.
Multilayer Pipes
Multilayer composite pipes combine the advantages of plastic and metal. Thanks to the flexibility of plastic and the strength of metal, the pipes are ideally suited to withstand the wide range of temperatures and pressures found in both cold and hot water systems.
Adapters & Transitions
Adapters and transitions are essential for connecting metal with plastic pipes or even two plastic pipes. This range covers multiple materials and offers reliable connections while offering high flexibility during assembly.
Bends & Elbows
Bends and elbows are essential fittings that easily change the direction of pipes. The extensive range available offers not only multiple materials but also different curvature degrees to easily fit your piping system.
Caps & End Caps
Caps provide a tight seal and stop the flow direction of a piping system. GF Piping System caps are available in different dimensions, different plastic materials and malleable iron to fit all of your needs. Temporary caps ease the pressure testing of an installed pipeline.
Couplers & Sockets
Simplify the pipe installation process with couplers and sockets. Specially designed to slide easily over pipes with no extra equipment required, they are cemented, welded or mechanically connected to create a pressure-tight joint.
Flange Connections
Flange connections are often the best mechanical connection between pipe segments or for installing valves up to very big dimensions.
Installation Fittings
GF Piping Systems has an extensive range of installation fittings available in a wide range of materials, ensuring secure and accurate positioning of sensors and electrodes for exceptional performance. The fittings match perfectly with all GF Signet products and are key for the easy installation of measurement equipment.
Manifolds / Distributors
GF Piping Systems manifolds and distributors are used to distribute drinking water from one supply line to several drinking water lines. All water-carrying fittings are made of corrosion-resistant materials to withstand high pressures and temperatures in building technology installations.
Reducers
Reducers are used for effecting a smooth transition between two pipes or fittings with different dimensions. The wide selection available covers an exceptionally diverse area of applications. They are available in short or long versions and in centric or excentric versions.
Saddles
GF Piping Systems produces a range of hard-wearing saddles including branch, clamp-on, strap-on and glue-on variants in various sizes. The saddles are lightweight yet durable, enabling them to support plastic and metal piping systems with ease.
Tees, Y-Pieces and Crosses
When creating branch lines, lightweight tee, wye, and cross fittings make installation much easier. These fittings are made from a range of materials and malleable iron and cover multiple dimension possibilities including various reductions on the same fitting.
Pipe Outlets & Boxes
With GF Piping Systems boxes, pipes can be replaced easily without damaging the wall thanks to the flexible box feet.
Straight Seat Valves
GF JRG straight seat valves provide a compact solution for high-performance needs. They ensure an efficient flow rate in a wide variety of conditions and applications. They also have a robust and durable design with a main body made of bronze and a valve rod and seat made of stainless steel. The upper part of the straight seat valve is free of contamination traps.
Ball Valves
Metal ball valves are simple and reliable shut-off valves. They are made of robust metal, able to withstand a wide range of temperatures.
Check Valves
Our GF metal check valves are mechanical safety devices in your pipeline that allow flow in one direction only. Our check valves are made out of bronze and can withstand high operating pressures and temperatures. They still have a low pressure drop.
Bending Tools
Sturdy, reliable and suitable for a range of diameters and profiles, bending tools by GF Piping Systems enable pipes to be laid in a curve when installing a piping system. They are easy to attach and detach with zero damage to the pipe material.
Cleaning Tools
Special cleaning agents for plastics are used for the intensive cleaning and degreasing of smooth surfaces. They are indispensable for preparing pipes, fittings, profiles, sheets and foils and ensure the safe connection of plastics.
Cutting Tools
If a pipe needs to be cut exactly, it is essential to have a cutting tool that is up to the job. The GF Piping Systems range comprises state-of-the-art cutters that can cut many different pipe sizes and materials properly and quickly.
Expansion Tools
Increasing a pipe's diameter without damaging it could not be simpler thanks to the GF Piping Systems range of hardwearing expansion tools. The entire process is quick and efficient, and the pipe is guaranteed to be leakproof when finished.
Accessories
We provide a wide range of accessories to support your installation projects. Accessories are available for use throughout the life-cycle of your system and available in an agreed time-frame.