With its excellent chemical and corrosion resistance, the PVC-U System offers numerous fields of application. The system is widely used in the chemical and textile industries, water and drinking water treatment and vacuum lines. 
As the first manufacturer of pressure piping, GF Piping Systems is introducing bio-attributed materials to all of its market-leading polyvinyl chloride (PVC) metric pressure pipes produced in Europe. The greener PVCresin, made using tall oil, a waste product from paper production will see a reduction up to 90% in the CO2 produced versus standard PVC while still maintaining the highest quality, durability, and recyclability.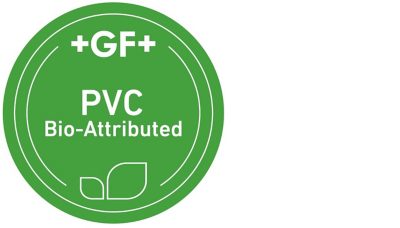 Meeting the criteria for success
The PVC-U range from GF Piping Systems fulfills all the requirements and criteria for the successful construction, maintenance and operation of industrial piping systems.
High-quality PVC-U System solutions with fittings and valves enable efficient processes with a long operational life span.
Maximum safety and profitability for guaranteeing DI water or mid-range water qualities.
The cemented PVC-U products can be quickly assembled into a piping system.
e-Diastar
The electric diaphragm valve e-Diastar allows simple automation without compressed air. Benefit from short downtimes thanks to fast and easy re-installation or retrofitting of manual diaphragm valves and lower maintenance costs. Please contact us, our energy experts will be glad to advise you.
Plastic Pipes
Sturdy and lightweight, plastic pipes are ideal for use in a wide range of applications. Versatile yet durable, these all-rounders offer exceptional reliability and proven quality.
Double Containment Pipes
Double containment pipes provide optimal safety for high-risk and highly demanding applications. The double containment system prevents the leakage of hazardous materials and protects human beings, the environment and production equipment. There are visually or automated leak-monitoring systems.
Adapters & Transitions
Adapters and transitions are essential for connecting metal with plastic pipes or even two plastic pipes. This range covers multiple materials and offers reliable connections while offering high flexibility during assembly.
Bends & Elbows
Bends and elbows are essential fittings that easily change the direction of pipes. The extensive range available offers not only multiple materials but also different curvature degrees to easily fit your piping system.
Caps & End Caps
Caps provide a tight seal and stop the flow direction of a piping system. GF Piping System caps are available in different dimensions, different plastic materials and malleable iron to fit all of your needs. Temporary caps ease the pressure testing of an installed pipeline.
Couplers & Sockets
Simplify the pipe installation process with couplers and sockets. Specially designed to slide easily over pipes with no extra equipment required, they are cemented, welded or mechanically connected to create a pressure-tight joint.
Flange Connections
Flange connections are often the best mechanical connection between pipe segments or for installing valves up to very big dimensions.
Installation Fittings
GF Piping Systems has an extensive range of installation fittings available in a wide range of materials, ensuring secure and accurate positioning of sensors and electrodes for exceptional performance. The fittings match perfectly with all GF Signet products and are key for the easy installation of measurement equipment.
Reducers
Reducers are used for effecting a smooth transition between two pipes or fittings with different dimensions. The wide selection available covers an exceptionally diverse area of applications. They are available in short or long versions and in centric or excentric versions.
Tees, Y-Pieces and Crosses
When creating branch lines, lightweight tee, wye, and cross fittings make installation much easier. These fittings are made from a range of materials and malleable iron and cover multiple dimension possibilities including various reductions on the same fitting.
Unions
Unions are the best mechanical connection between pipe segments and for installing all kinds of components up to the dimensions of d110/DN100. Unions are available in a wide range of materials and jointing options. The connection is fast and very robust.
Ball Valve 546 Pro
The original just got better.
The ball valves from GF Piping Systems do not compromise on safety. Special design features ensure high reliability and long service life. For example, there are no metal components in areas that are in contact with the medium that could corrode during use. A predetermined break point integrated in the stem interface prevents leaks due to wear or excessive force. Two o-rings integrated into the stem interface provide maximum protection.
Ball Valve 542
The manual Ball Valve type 542 offers uncompromising quality and is available in various materials and connection variants. It is ideal for use in everything from simple water applications to manual applications in demanding processes.
Ball Valve 543 Pro
As the successor of the proven original, the Ball Valve 543 Pro has been improved in many ways. A reinforced security break point in the stem interface prevents leaks due to wear or excessive force. Two integrated sealing rings in the stem interface provide double safety. Therefore, the 543 Pro offers uncompromising reliability and can be flexibly expanded with optional accessories. All previous quality features of the ball valves have been migrated to the new generation.
Ball Valve 546 linear
This linear Ball Valve provides uncomplicated control even in complex processes thanks to its linear flow characteristics. With a variety of materials available, its areas of application are unlimited. The carefully engineered ball enables a linear flow, even for minimal flow rates.
Ball Valve 523
The advantage of Ball Valve type 523 is exact dosing of small quantities of media. Its circular scale and specially shaped ball enable precise dosing. It serves for small volumes for which a linear flow is required and a sudden increase in flow are not.
Laboratory Ball Valve 522
Lightweight, robust and with compact dimensions, the Laboratory Ball Valve 522 is ideal for use in applications where space is at a premium. It is extremely easy to install and available in metric and imperial configurations.
Ball Valve 375
The Ball Valve 375 by GF Piping Systems is compact and cost-effective and has an ergonomic lever. Thanks to its ease of installation and long service life, this manual valve is perfect for piping systems requiring little maintenance.
Ball Valve 374
The Ball Valve 374 is an affordable and high quality manual valve that was developed specially for use in non-critical water applications. Its construction ensures simple maintenance and hence a long service life. Its compact construction is an advantage for use in confined spaces such as filtering modules.
2-way Diaphragm Valve
Intended for use in numerous applications from chemical processing to water treatment, GF Piping System offers a wide range of diaphragm valves. This includes manual, pneumatic and electric operation combined with all plastic and diaphragm materials.
Butterfly Valve 578
GF Piping Systems Type 578 butterfly valves with high corrosion resistance are perfect for use in chemical processing and industrial water treatment. Their versatile design minimizes torque and allows them to be used as a wafer-style or lug-style valve.
Butterfly Valve 567
A modular design and an intelligent yet simple operating principle make the GF Piping Systems Type 567 butterfly valve the perfect addition to any set-up. This wafer-style butterfly valve is made of highly durable, corrosion-resistant plastic and can be installed with ease.
Butterfly Valve 563
The butterfly valve type 563 has been specially designed to fulfill aquatic and water park requirements where outstanding quality and economic valves are demanded.
Butterfly Valve 565
Plastic Butterfly Valves have already proven to outperform metal valves in almost every way, thanks to a higher resistance against corrosion and a lighter weight. Now, a new generation has arrived to beat metal in cost-effectiveness, too.
Cone Check Valve Type 561 & 562
The Cone Check Valve 561/562 is designed to prevent the backflow of media into sensitive systems. This valve minimizes pressure loss and comes with a special seal to guarantee leakproof operation.
Wafer Check Valve 369
Large installations require a valve that is simple to insert and maintain, which is why GF Piping Systems developed the Wafer Check Valve Type 369. It can be installed horizontally or vertically and guarantees excellent flow characteristics.
Angle Seat Valve 303/304
Both exceptionally reliable and versatile, the type 303/304 angle seat check valves from GF Piping Systems can be installed horizontally or vertically. The check element can be easily serviced without having to dismantle the entire valve.
Ventilating and Bleed Valve 591
Light, compact and available for a range of piping configurations and tanks, GF Piping Systems Ventilating & Bleed Valve Type 591 ensures reliable venting of liquids and gases, preventing media backflow and jamming.
Ventilating Valve 595
Intended for use in aeration systems, the Ventilating Valve Type 595 ensures safe venting of liquids and gases in the event of negative pressure. This valve is easy to install, while the robust materials and excellent reliability minimize maintenance.
Pressure Reducing Valve 582
Durable, dependable and simple to use, the Type 582 Pressure Reducing Valve's design reduces the pressure on the outlet of the valve. It is used to reduce higher pressure from main lines or to protect sensitive devices from being damaged by too much pressure.
Pressure Reducing Valve V82
The V82 Pressure Reducing Valve is made of durable, corrosion-free plastic and contains an actuator that is hermetically sealed against aggressive media in the pipe system. The innovative design allows it to be installed in virtually any position. This valve is also made for pipes of bigger dimensions.
Pressure Retaining Valve 586
Also known as an overflow, safety or backpressure valve, the Type 586 Pressure Retaining Valve works to keep the pressure at the valve inlet constant at all times, thereby ensuring problem-free operation. Made of fully molded, high-grade plastic, this is an intelligent addition to any piping system.
Pressure Retaining Valve V86
The V86 Pressure Retaining Valve works to keep the pressure at the valve inlet constant at all times, ensuring problem-free operation of the system as a whole. It is made for pipes of larger dimensions.
Solenoid Valves
Made from corrosion-resistant plastic and suitable for use in a wide range of applications, GF Piping Systems solenoid valves offer unparalleled reliability.
Strainers
Designed to protect sensitive components in piping systems, strainers filter out pollutants from the media. This extends the system's service life, reduces maintenance, improves operation and minimizes additional expenditure.
Throttle Valve V251
For efficient throttling of media in piping systems and flawless operation, look no further than the GF Piping Systems Type V251 throttle valve. Made of high-grade, durable plastic, this compact valve is highly resistant to corrosion and chemicals.
Water Jet Suction Pump P20
P20 self-priming water jet suction pumps from GF Piping Systems have no mechanically moving parts, making them extremely compact and reliable. Thanks to the corrosion-resistant molded plastic design, they are ideal for mixing, dosing and handling liquids.
Insertion Paddlewheel Sensors
Paddlewheel flow sensors are highly repeatable, rugged sensors that offer exceptional value with little or no maintenance.
Magmeters
GF Signet Magmeters are versatile, easy-to-install sensors with no moving parts and patented Magmeter technology.
Variable Area Flow Meters
Variable area flow meters are used to measure flows in industrial piping applications. They offer a wide range of measurement options for a variety of situations.
Cementing
Cementing is a simple and quick method of jointing that creates a secure, leak-proof joint with little expertise or expensive equipment required.
Cleaning Tools
Special cleaning agents for plastics are used for the intensive cleaning and degreasing of smooth surfaces. They are indispensable for preparing pipes, fittings, profiles, sheets and foils and ensure the safe connection of plastics.
Spare parts
Original, high-quality spares parts for GF Piping Systems systems and products. Spare parts are available throughout the lifecycle of your system and available in an agreed timeframe.
Accessories
We provide a wide range of accessories to support your installation projects. Accessories are available for use throughout the life-cycle of your system and available in an agreed time-frame.
Discontinued Valves & Actuators
Thanks to continued innovation efforts, we are continually improving and refining our products and systems. Due to this, some valves and actuators are no longer being manufactured. If you are unsure if a product line you currently own is discontinued, or are looking for support or further information on one of our discontinued product lines, please find our contact information below.