Now offering you local plastic fabrication services in our brand new Tech Centre!
Tailored innovation, inspired by you
Located in Brendale, Queensland, our newest, the state-of-the-art prefabrication workshop, the 'Tech Centre'  increases our service capabilities for your benefit.
The new location will also allow for an increase in stock for our products, reducing lead times.
Completing parts of the project off-site will create a safer environment on-site, reduce the risk of installation failures and projects delays.
Labour advantages to saving time
Shortens the time of on-site installation and allows flexibility to build in areas with local shortages or skilled expensive labour.
Focus on your core skills
Utilising our fabrication team will allow you to focus on your core skills in the project, by outsourcing the more complex plastic customisation work to our Tech Centre in Brisbane.
Continuous support, on-site and off-site
Offering support throughout the project, from planning to installation, regardless of your expertise of plastic piping systems.
Customisation & system assembly
GF Piping Systems Australia offers support throughout all stages of your project, bringing your ideas and concepts to life.

Take advantage of our experts and their extensive range of specialised plastic fabrication equipment for customised solutions, tailor-made for your specifications.
Reduce the scope of on-site works, to fabricate as much as possible in a controlled environment, increasing quality and reducing delivery times.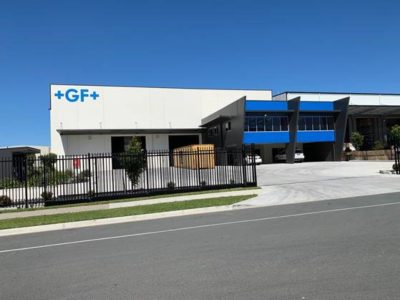 We are here for your peace-of-mind, providing your project with completed flanged spool assemblies from a single source that can be bolted together on-site using in-house technicians.
This will save you the time and expense of hiring certified contractors and renting welding equipment.
Fabrication capabilities
Electrofusion
Butt Welding
IR / BCF Welding
Extrusion Welding 
Bonding and Cementing 
Prefabrication and Customisation
Valve Assembly
Sweep Bends 
Fabricated Tees
Spool and header Manufacturing 
Rooftop Water Distribution Modules 
High Point Vents  (HPV)
Low Point Drains (LPD)